To buy a favorite bath towel there are several immediate key factors  should be took into account.
There are three determinants of a towel's quality.
They are Absorbency, Softness and durability, and certain balance between them.
Bath towels weight
The thickness(GSM) is crucial to the absorbency, generally higher GSM means higher absorbency, but that is not always the case. The Gsm has its limit. Same size towel with high GSM means heavier, and towel price has immediate connection with weight, too heavy bath towel will be a waste, furthermore too heavy bath towel will getting difficult to take care of. From the economical and practical point of view GSM for bath towels reasonable range is 350gsm to 800gsm. In the Tropics and The Subtropics we suggest GSM's range is 350~450. Bath Towels in this range have both sufficient absorbency and quick drying.
Bath towels material
There are various materials for towels. The most populous are cotton, bamboo fiber and microfiber.
Bamboo fiber are most soft, even softer than cotton, appropriate for washcloth for baby and kids. But bamboo fiber is belong to rayon which easy to broken. So BAMBOO FIBER TOWELS are not durable. Microfiber do not absorb water itself, even anti-water. Microfiber towel absorb water use interspace betwwen microfibers, so the water can be squeezed out easily. That is why microfiber towle dry quickly, but provided that you squezzed hard befor. Cotton is a natural fiber, eco-friendly, skin-friendly, absorb water, soft and durable. Hotel towels are 100% cotton.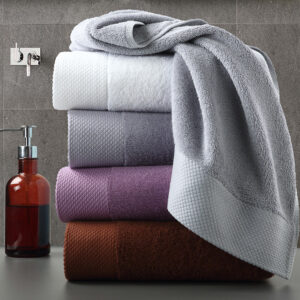 Bath towels Yarns
Terry towels are made of three system, warp and welft weave the base fabric, the loops is made of the second waps. There are popular three type yarns used, 21s/2ply, 32s/2ply and 16s/1ply. So you need not to obsess with Egyptian cotton or Turkish Cotton, at these low counts there is alomost no diference. Best cotton features high count yarns, such like 80s,100s 200s. Any qualfied cotton can do it's job, so towels are not that picky. But combed yarns would be prefered than carded yarns. Combed yarn is a yarn that has straight and parallel fibres. The process via which the yarns are created results in smoother, stronger and even more compressed, that is outstanding for weaving. Combing process positions the fibres so that they face the same direction and removes shorter fibres. As well as a smoother, finer texture, products made with combed yarns will suffer with less fibre shedding because most of the loose fibres will have been removed during production. Carded Yarns are  relativly low-quality, less strength and feel coarse.
Use 16/1ply as loops bath towels usually has relatively long piles make them look fluffy, use 32s/2ply and 21s/2ply as loops has relatively shorter piles but more durable. 32s/2ply is fine than 21s/2ply.
Bath towel color
Towels have various colors, only bleach white color is got by bleaching, the others colors are got by dyeing. So when we check the towel's quality, we best check the bleach white color towel firstly. The quality towel should be clear, bright and comfortable. So poor towels made of inferior cotton dare not provide bleach white towels, because that kind towels would look dull and uncomfortable, even if they use Brightener.