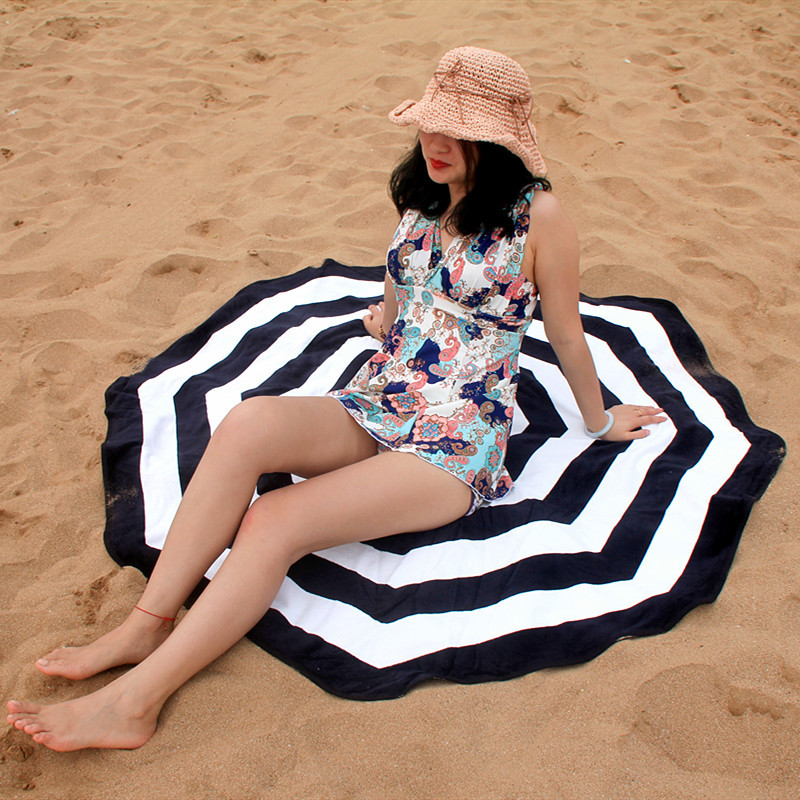 What is a beach towel?
Beach towels are terry towels commonly used as sheet on beach, and sometimes use it wipe water after swimming or just wrap body to keep warm against cold sea wind on the beach.
The beach towels are almost as big as bath sheet, but relatively thiner, generally range 300~450gsm.
Beach towels are a versatile towels. They can work as sheet towels to lie on, or use as bath towels to wipe off or dry off water, or applied as bath wrap to wrap it around our waist or shoulder.
When we spend leisure time on beach, it is very useful to bring a beach towel with you.
Shapes of beach towels
They have many shapes as we know. Such as square, rectangle, round, or cape or other shapes. And the beach towels mostly are colorful, printed or jacquard with patterns on them.
What kinds material are for beach towel?
There are two main materials for beach towels, cotton and microfiber.
Premium beach towels are usually made of 100% cotton, it green and Eco-friendly, especially, cotton is a natural material so it is skin-friendly. The cotton piles with towels can absorb moisture quickly, to clear adherent sand easily the piles or loops are usually short.
Cotton beach towel usually come with various printing on the velour side to make sure the patterns are clear and enticing.
The striped towels usually are  plain weaved use dyed-yarns, and usually used as pool towels. These stripes are customizable, but MOQ are required, generally 1000pieces to start. But with regard to regular specifications striped pool towels there is no MOQ requirement.
Microfiber beach towel are colorful usually. They are almost all arrives with printing. They dry easily and quickly, because they are made from polyester and nylon, and polyester is a hydrophobic material. Microfiber beach towel absorb water by the cavity in the fibers, so the water once been squeezed out of fibers, the towel will dry quickly. Cotton yarns have not such feature.
How to buy best beach towels?
As the saying goes, it is the best when it fit you. When you want the beach towel to be portable, you should use microfiber beach towels, because they are always thin and light easy to pack up.
Microfiber beach towel are preferred when you want it dry quickly. And they are relatively cheap compare to cotton beach towels. Cotton beach towel are extremely soft, absorbent,durable and skin-friendly. Cotton beach towels' only negative consideration is price.
Beach towel can be used anywhere, beach resort, river side, pool side and  backyard.